JW Weldon
Weldon's of Dublin is one of Ireland's leading experts in antique diamond engagement rings, vintage diamond jewellery, and antique Irish silver. Founded circa 1890, we are a fourth-generation business and are one of the original members of the Irish Antique Dealers' Association. We specialise in rare and beautiful diamond jewellery.
Treasures Irish Art & Antiques
Martin Mooney, oil on board, 'Red Tulips' 48in x 36in
Treasures Antiques & Irish Art will exhibit a range of quality Antiques to Modern Irish Art. They strive to deliver high quality pieces and an eclectic range from paintings by 17th century artists to Francis Tansey. You will be spoilt for choice on Stand 20.
The Store Yard
18th Century Irish Limestone Chimneypiece with Original Sandstone interior from a Co. Tipperary Estate
With more than 25,000 sq ft of the best architectural salvage, vintage, period, retro furniture and curios in the country, The Store Yard is unique in the Irish antique and architectural salvage market.
The Store Yard is a key player in the supply of film props and has worked on the upcoming The Banshees of Inisherin, Mr. Malcolm's List, Little Women, Miss Scarlet & The Duke, Wild Mountain Thyme and many more.
The Store Yard has been involved in dozens of commercial projects.
They work with Architects, Interior Designers and individuals either on a supply only basis or a full design, build, install and finish service.  They can assist in repurposing architectural salvage and furniture items to help bring your vision to a successful conclusion.
Straffan Antiques
Straffan Antiques showroom.
Straffan Antiques showcases the very best of 18th and 19th century Irish, English and continental furniture.  We are happy to advise on the right piece for your home. We will work with you sourcing the right piece for your project. Our service includes national and international delivery of furniture and mirrors. We look forward to welcoming you to Straffan Antiques in person, over the phone or online.
Courtville
At Courtville, we pursue the rarest and finest antique and vintage jewellery. Dealing in the highest quality gemstones, old cut diamonds and period estate pieces, specialising in one-of-a-kind antique engagement rings. Antique jewellery is made with a craft and passion that cannot be replicated, the skills have almost all been lost and cannot be replaced. Own a piece of history that throws back to another era where quality and time spent making things beautiful were paramount.
McBain & Byrne
William Moore Irish table Circa 1785
McBain & Byrne specialise in 18th century Irish and English furniture in addition to works of art.  Their collection is a collaboration of pieces offered on behalf of privte collections and pieces chosen for their integrity,exceptional design, quality of craftsmanship and originality.  Their work with many of England's historic collections offers them the privilege of offering important pieces from their original collections.
Yeats Country Antiques

Yeats Country Antiques was established by Mervyn Blanc more than 30 years ago in Sligo. They specialise in fine period furniture, antique gilt mirrors and beautiful home furnishings.  They have an impressive showroom located in Dublin's famous Antiques Quarter – Francis Street, Dublin 8 where they display a sample of their impressive stock. Also located in the north-west, along the Wild Atlantic Way, they have an extensive warehouse filled with antiques.
Acquired

Mid-century Italian sideboard by Mobili Permanente Cantu
Acquired is one of Ireland's leading specialists in 20th century design. Based in an 18th century former mill in Stradbally, County Laois their private showroom is operated on an appointment basis. Owner, Domhnall  Ó Gairbhí, travels extensively throughout Europe sourcing the very finest mid-century modern furniture, lighting, art and design for both private and commercial clients.
www.acquired.ie    |   Instagram: @acquired.ie     |     #theacquiredstyle
Sol Art
Sol Art Gallery is a family run business with Martin and son Jay having established the gallery in Dublin in 2010. The gallery represents and promotes the work of national and international, emerging, mid-career and established visual artists.
The gallery is centrally located on D'Olier Street which is a 5-minute walk from Trinity College and Dublin's main shopping district, Grafton St.  The gallery blends a monthly gallery exhibition list throughout the year with a calendar of global art fairs.
Gormleys Fine Art
Dublin gallery sculpture garden
Andy Warhol- Grace Kelly (FS II.305) 1984
Founded in 1990, Gormleys is one of Ireland's leading contemporary art galleries, specialising in painting and sculpture from leading Irish and international artists.
Our galleries in Belfast and Dublin have a busy exhibition program throughout the year and in addition, we regularly organise major outdoor sculpture exhibitions throughout Ireland. Our Dublin gallery also features a permanent sculpture garden.
In addition to our program of Irish Art we showcase the work of important international contemporary artists including Andy Warhol, Banksy, Damian Hirst, Robert Indiana and Keith Haring.
Brian Behan Antiques and Irish Art
Located in the heart of Dublin City, Brian Behan Antique Galleries stock a wide range of antiques, sculptures and a collection of Irish artworks from artists including  John Behan, Jarleth Daly, Patrick O'Reilly, Markey Robinson, Norman Teeling, Alex McKenna and Annie Robinson.
Brian Behan Antique Galleries also stock antique furniture & lighting from the 19th & 20th Century.
www.brianbehanantiquegalleries.ie
The Doorway Gallery
The Doorway Gallery exhibits fine art paintings, amongst other works, from a selection of both Irish born and international artists, who are individually recognised for their unique talent and contribution to art.
The primary focus of the Doorway Gallery is to support Artists in achieving international recognition for their work. This is achieved through their presence at a number of annual international art fairs at which a selection of art works is promoted.
Zozimus
Lily Pond by Andrey Denim, oil on canvas, size 140x90cm
Located at 57 Francis Street, in the heart of Dublin's Historic Liberties Quarter, Gallery Zozimus has a collection of contemporary paintings and sculptures.
Its artists include Mark O'Neill, Ann McKenna, Eleanor Swan, Eileen Singleton, and Brigit Beemster amongst others.
The gallery specialises in sculptural ceramics with a particular emphasis on Irish made artworks.
Niall Mullen Antiques
Pair of reupholstered vintage armchairs
Niall Mullen Antiques is celebrating 20 years in business, specialising in Art Deco & eclectic items with the best cocktail cabinets in Ireland.
Niall has a shop on Francis Street with a wonderful selection of fully restored furniture, objects & sculpture.
Tara Crystal Chandeliers
The Avoca 15 arm chandelier 
County Waterford is steeped in the tradition of crystal and in 1993 Tara Crystal Chandeliers was formed.  They specialise in the art of designing and making crystal chandeliers.
www.taracrystalchandeliers.com
Facebook: @taracrystalchandeliers
Instagram: @tara_crystal_chandelier
Stoney Road Press

Donald Teskey, Riverbank I, 2023, Medium: Carborundum + intaglio, Sheet size 71cm x 92cm
Stoney Road Press is a fine art publisher based in the Docklands area of Dublin.  Since 2002 we have been collaborating with Irish artists to publish limited edition fine art prints. For Timeless 2023 we are delighted to launch new editions by artist Donald Teskey as part of his Riverbank suite. The portfolio features works by over 40 of Ireland's leading artists, in addition to works by artists such as Bernar Venet, and Charles Arnoldi.
The Sofa Factory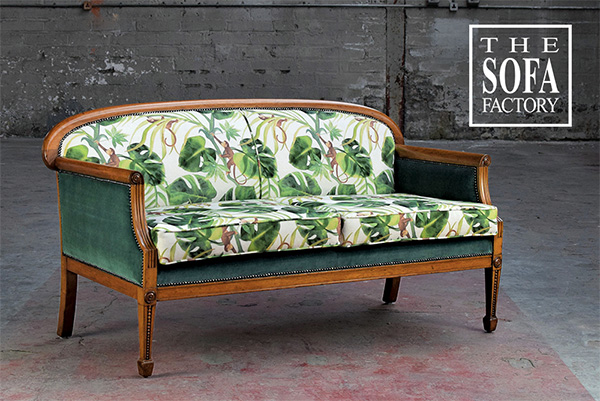 Edwardian Sofa, Reupholstered in contemporary fabrics.
Made to order, classic and contemporary sofas, and occasional armchairs. Re-upholstery specialists. Extensive fabric library. Stockist of vintage and antique chairs. Visit our new showroom and workshop. 4 Knockmitten Lane. Dublin 12. D12 DK50 (Just off the M50)
Greystones Antiques
Situated in the heart of the bustling seaside town of Greystones in Co. Wicklow, (beside DART station). Greystones Antiques is packed full of decorative antiques and stocks a large selection of antique silver and unique jewellery. Always a popular stand at the fair, owner Linda Paine has been in the business for more than 30 years and will be showcasing her usual selection of interesting and affordable antiques at the 2023 Timeless Fair.
John Farrington Antiques
John Farrington Antiques is over 40 years in business.  We specialise in top quality wearable Fine Diamond Jewellery.  We carry an extensive range of classic, antique and contemporary engagement rings.  A wide collection of natural sapphire, ruby, emerald gemstone rings.  Diamond bracelets, pendants and necklaces for all occasions.  Experts in providing beautiful pieces to pass down from generation to generation.
www.johnfarringtonantiques.com
The Vintage Hub
8 Kai Kristiansen model 31 dining chairs
The Vintage Hub, based in North County Dublin, is a leading destination for aficionados of 1950s to 1980s British and Scandinavian design. With a meticulous curation process, they showcase a handpicked collection that represents the very best of this era's furniture making. From iconic British designs to sleek Scandinavian craftsmanship, their offerings encompass all that was good about this period. Immerse yourself in the timeless elegance and distinctive aesthetics of mid-century furniture with The Vintage Hub's carefully selected pieces. Discover the perfect blend of nostalgia and sophistication for your space.
Mid-Century Online

Desk by Hans Von Klier
Mid-century Online is a premier destination for vintage design enthusiasts, specializing in a meticulously curated assortment of 1950s to 1980s American and European designer furniture. With a keen eye for quality and authenticity, they bring together iconic mid-century pieces that evoke timeless elegance and style. From stunning executive desks to stand out Milo Baughman lounge chairs, their collection captures the essence of an era known for its innovative design and craftsmanship. Immerse yourself in the allure of mid-century modernism with Mid-century Online's hand-picked treasures.
https://mid-centuryonline.com/
Jorgensen Fine Art

Desmond Carrick RHA (B. 1928) oil on canvas, "The Road to Toomakeady Co Mayo
Ib Jorgensen left secondary school at eighteen and began studying design and pattern cutting at the Grafton academy.  At the age of twenty he came first in tailoring and pattern cutting and for the next thirty years he developed couture clothes having made a name for his designs in Ireland and internationally.  For the last forty years Ib has run his gallery and represented both contemporary artists and may of the major Irish artists of the 20th century and continues to work as a designer in several fields.
Michael Mortell

Michael Mortell specialises in furniture and objet d'art of exceptional design and quality, mainly from the first half of the 20th century.
" My aim is to offer furnishings to my clients which will give their homes a stamp of individuality and international sophistication".
Connaught Antiques

An exceptional Irish Oak console table by O'Donnell of Limerick, Ireland. Made for the 1851 Great Exhibition in London and the 1853 Dublin Great Industrial Exhibition. Circa 1851. 
Connaught Antiques is owned and run by third generation antique dealers, brothers Philip and Mark Maguire. With a wealth of knowledge and expertise the Maguire brothers will assist you in finding exactly what you are looking for.
Offering a unique selection of fine quality antique furniture, paintings, porcelain, clocks and object d'art a visit to Connaught Antiques is a must, with constantly changing stock you are sure to find something to delight!
Irish Georgian Society
The Irish Georgian Society works to conserve, protect, and foster a respect for Ireland's architectural heritage and decorative arts through active conservation, education and events programmes. Membership is open to all with an interest in Ireland's heritage.
Swiss Watch Club
Welcome to Swiss Watch Club – the preowned watch reseller, where luxury meets authenticity and expertise. With 30 years working with some of the finest watch brands in the world, it is our pleasure to showcase a range of vintage and discontinued models at this year's Timeless exhibition.
We take immense pride in curating a collection of exquisite Swiss watches that exude timeless elegance and impeccable craftsmanship, with brands including Patek Phillippe, Rolex, Audemar Piquet, Cartier, A. Lange & Sons.
With a strong commitment to authenticity, each timepiece we offer undergoes a rigorous and meticulous authentication process to ensure our customers receive nothing but genuine masterpieces.
Let us help you find the perfect timepiece that complements your style and celebrates the rich history and heritage of renowned watchmakers.
Swiss Watch Club buys, sells and sources watches, and have an in-house service and repair centre.
Collectors' Corner
A selection of Irelands most talented and internationally recognised artists past and present. Including Louis Le Brocquy . Andrew Nichols , Gladys McCabe, Sean Keating, James Hanley, Geraldine O Neill,, Martin Gale, David King, Dermott Seymour , CJ Harrison, Amy O Riordan, Diane Copperwhite, Stephen Loughman , John Behan, Andrew Scott and many more.